Oil-injected Rotary Screw Integrated Compressor
Oil-injected Rotary Screw Integrated Compressor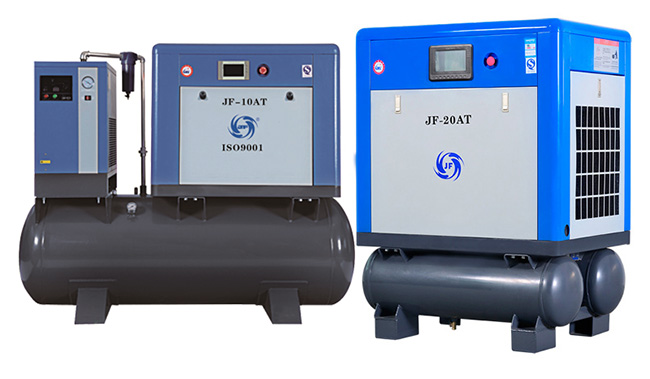 Features
The direct drive oil-injected rotary screw compressor features long-hour stable running, and can offer 24-hour stable compressed air supply.
100% duty cycle;
Flexible and quiet operation;
Energy saving, cost effective;
Long maintenance period, long lifespan;
Integrated design, no internal pipes and connectors;
380V/3HP/50HZ power source, IEC standard design;
Air cooling structure grants the compressor the ability to work at under 40℃ environmental temperatures. This allows it to run for a full-day.
The compressor is equipped with automatic on/off controls, constant speed controller, and relay.
The compressor applies maintenance-convenient direct drive structures. There is no need for replacing the belt and other consumable transmission parts.
Designed with an air storage tank
Benefits of Direct Drive
Efficiency
The direct drive transmission and gear drive transmission offer 98%-99% of transmission efficiency while the belt transmission offers 94%-98% of efficiency.
No load Power Consumption
The unloaded pressure for compressor with gear drive transmission is over 2.5bar, with some are even up to 4bar. The unloaded pressure for the direct drive and belt transmission can be 0 in theory. This is because the oil absorbed by rotor is enough to lubricate rotor and bearings. For safety, the unloaded pressure of compressor with direct drive and belt transmission is kept around 0.5bar.
Pressure changing for installed air compressor
When the operation conditions change, designed pressure of an installed air compressor might be inappropriate, then we may need to change the pressure of the installed compressor. For a gear drive air compressor, changing its pressure is difficult and expensive; for a direct drive one, it could be easier. For a belt drive one, the work could be very easy. You only need to change pulley and belt to change the pressure of the compressor.
Maintenance cost
All oil-injected rotary screw compressors apply annular shaft seals, which need to be replaced after their lifespan. For direct drive and belt drive compressors, replacing the seal only needs to require the taking off of the coupling or pulley.
For gear drive compressors, this process is different. When motor or rotor bearing is damaged, related important parts usually get damaged directly or indirectly. That issue doesn't exist for direct drive or belt drive air compressors.
Technical Parameters
Model
JF-10AT
JF-15AT
JF-20AT
Pressure
0.8Mpa
Displacement Volume(FAD)
1 .05m³/min
1.52m³/min
2.3m³/min
Total Package Input Power
8.78kw/m³/min
7.98kw/m³/min
8.71kw/m³/min
Cooling Method
Air Cooling
Outlet Temperature
±12℃ (ambient temperature)
Motor Power
7.5kw
11kw
15kw
Motor Speed
1470r/min
2900r/min
2920r/min
Power Supply
380V/3PH/50HZ
Motor Starting Method
Direct on-line Starting
Y-△ Starting
Insulation Class of Main Motor
F
Protection Level of Main Motor
Ip54
IP23/lp54
IP23/IP54
Applicable Temperature Range
-5~+450℃
Transmission
Direct Drive
Noise Level
62±2dB(A)
64 ± 2dB(A)
66 ± 2dB(A)
Oil Content in a Compressed Air
≤3ppm
Coolant Capacity
4.5L/compressor
9L/compressor
Air Tank
130L
145L
150L
Air Outlet Size
G½''
G¾''
Weight
About 275kg
About 450kg
About 480kg
Dimensions
1000x700x1270mm
1050x750x1400mm
1050x750x1380mm
Guangdong Jufeng Manchinery Manufacturing Co., Ltd. is a professional air compressor manufacturer, dedicated to air compressor researching, developing, and manufacturing. We have our very own factory. It is equipped with 12 advanced production lines, with a production output of about 40000 (of kinds of products) per year. At Jufeng, we stand for industry-leading quality in air compressors. In nearly every industry driven by compressed air technology, our reputation speaks for itself. You will find Jufeng air compressors raising the bar for performance and emerging as a leader in the industry. Designed to deliver reliable, stable pressure, low operating and maintenance costs, and ongoing energy savings, Jufeng products are a great choice for any growing business.